Juniors News
---
It's a bird! It's a plane! It's the JWCA!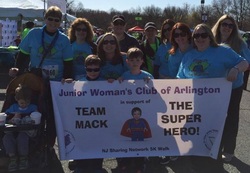 April 12, 2015
- On April 12th, the Junior Woman's Club of Arlington participated in the NJ Sharing Network's 5th Annual 5K Celebration of Life. Juniors joined Team "Mack the Super Hero" to honor the memory Malachy Byrne of Kearny. The JWCA was joined by members of the Arlington Woman's Club, the EMD of the Arlington Woman's Club, friends and family for a beautiful day on the campus of Bergen Community College in support of this great cause. Thanks to the generosity of friends, family and the community - especially the kids of Garfield School - the JWCA surpassed the team goal and raised over $1,300. To make a donation or to learn more about the NJ Sharing Network and the miracle of organ and tissue donation visit:
https://www.njsharingnetwork.org/
.
---
Juniors get in the Christmas Spirit!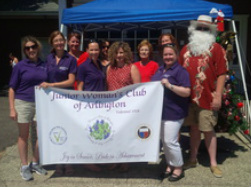 July 25, 2015 - The Junior Woman's Club of Arlington kicked off their Annual Toy Drive on Saturday, July 25th at the Kearny Girl Scout House with a visit from Santa, fun activities and plenty of holiday cheer! The day was a great success with donations of new unwrapped children's toys, gift cards and monetary donations collected for local children this Christmas. Special thanks to the local business who partnered with us to have collection boxes in their place of business - Yo-Lish, Arlington Realty, World Martial Arts Academy and the Kearny Public Library. Thanks to the generosity of our community partners and the people on our community, well over 100 new toys and books will make holidays a little brighter for local kids in need.

Donations are still being accepted through December 11th. Checks should be made payable to Junior Woman's Club of Arlington and mailed to JWCA (Toy Drive), P.O. Box 61, Kearny, NJ 07032 or you may donate securely online via our website. Please contact us at info@jwcarlington.com if you would like to arrange for your donation to be picked up.
---
---