Monthly Meetings
Monthly meetings are at 8:00 pm on the third Friday of every month (unless otherwise posted) at the Henrietta Benstead Senior Center, 60 Columbia Avenue in Kearny. We meet from September - June with activities throughout the summer months.
We welcome interested women to come learn more about us, free of commitment, and when you are ready, make an informed and confident decision that the Junior Woman's Club of Arlington is the right fit for you!
Member Benefits
As a Junior Woman's Club of Arlington member, you will have the opportunity to:
Contribute to the quality of life in your community
Experience a variety of service opportunities
Develop your leadership and professional skills
Network with women with similar concerns and interests
Cultivate lifelong friendships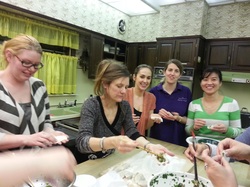 Membership Requirements
Membership has something for everyone. The guidelines for membership that must be completed in order to become a full time member of the JWCA are as follows:
Attendance at three (3) General Meetings or Events. This includes participation in any department activity and volunteering for a club fundraiser or service project.
Payment of dues ($45) before March 1 of each year.
All prospective members are installed at the next General Meeting after the attendance requirement is met.
Interested in more information?
Contact us
Interested in becoming a member?
Contact our
Membership Secretary
---